Talent Management is the process of developing and fostering new workers through onboarding, developing and keeping current workers and attracting highly skilled workers to work for your company. Companies that are engaged in talent management are strategic and deliberate in how they source, attract, select, train, develop, retain, promote, and move employees through their organization. As a result, employees and other stakeholders experience interactions of higher quality with the organization, and the benefits are far reaching, from performance to reputation. These results can be observed when the People Experience was planned by design, rather than discovered by happenstance - strategic planning rather than reactive fire-fighting.
Talent Strategy is the combination of design and planning activities necessary to bring together the different people processes involved throughout the employment lifecycle. It involves the short-term view of process review and integration. It also involves the mid-to-long range decisions and planning needed to ensure the sustainability of your critical talent in alignment with your business strategy.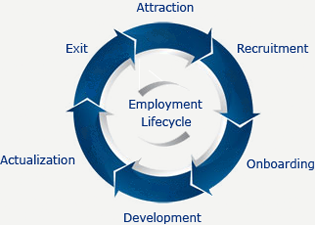 Our Framework
Our talent management framework is composed of five (5) distinct elements which can be assessed independently or integrated together, depending on your capacity for integration.
Competency Modelling
The Civis framework approaches Talent Management as a competency-based practice where decisions are driven by three (3) layers: organizational core competencies, position-specific competencies, and mission-critical competencies.
What is competency modelling?
A competeny model identifies the unique combination of skills and aptitudes your organization requires to reinforce or shift its culture, and to compete in the marketplace. The competency model should lead to the creation of competency profiles unique to each role. Those profiles should include a detailed definition of the role, but also a description of the knowledge, experience, skills and personal traits (demonstrated through clear defined behaviors) required for the role. The level of mastery expected for a specific role should also be included. Complex profiles hold up to 7 levels (from Novice to Master) and clearly describe what behaviors and deliverables are associated to each level of mastery for any given competency. Ask our consultants how competency profiling can support your operations
.
Employee Value Propositon (EVP)
An EVP is a percieved value resulting from the combination of all the tangible and intangible benefits an organization provides in return for an employee's time, effort and productivity. It spans beyond compensation to include factors such as corporate culture, rewards, management style, training and development, advanced opportunities, the fundamental values of the organization and whether those values are actively demonstrated. Research shows that 42% of high-performing organizations have a formal EVP.
Only a meaningful employee value proposition creates the WIN-WIN situation in which Organizations can experience a high level of energy, motivation, passion and workforce loyalty, while employees experience pride in their work along with a high level of personal satisfaction, which can also be observed in the gift of their discretionary effort.
A strong EVP (one that accurately reflects your business, its values and its culture) helps attract, retain, motivate and engage your workforce. Based on the same principles, a review of your existing EVP could effectivelly reengage an apathetic workforce and reignite greater levels of performance.
The employee experience is also intimately linked to an organization's reputation and the brand promise to its customers. Because HR can't control the company reputation, the external perceptions or the value of the external brand, people are the key factor in delivering the brand's promise. Similarly, organizations cannot control how employees deliver their brand, nor the extent to which they are "living" their brand. Brand and company reputation are key factors in attracting and retaining talent.